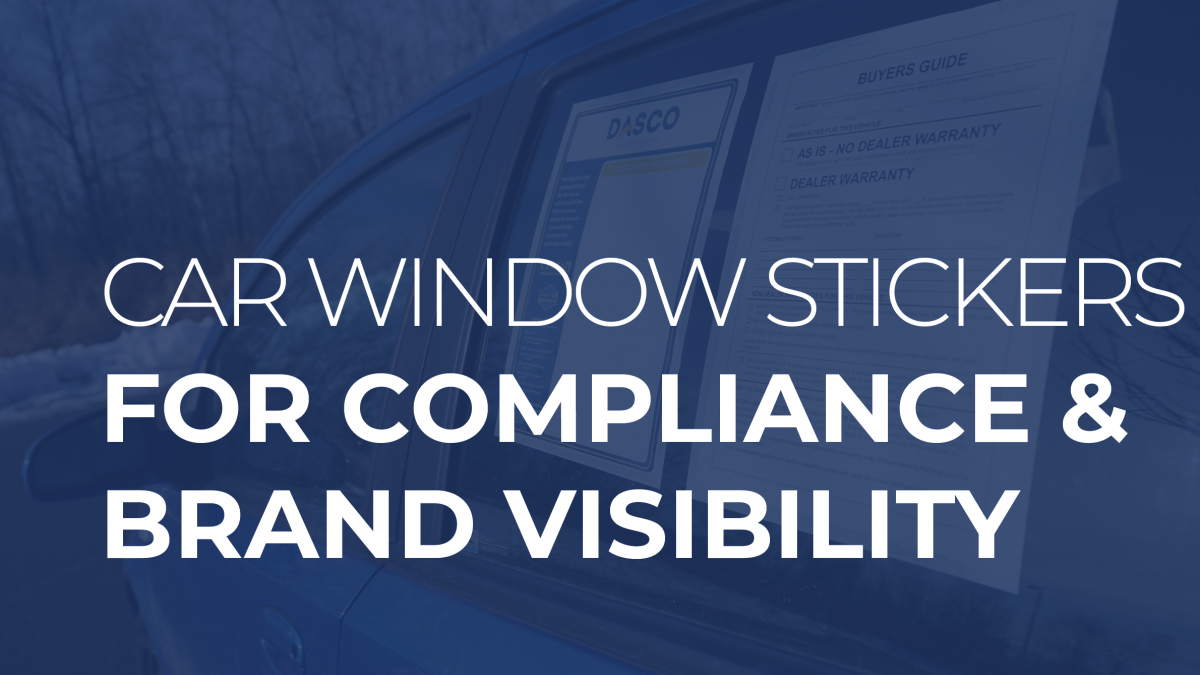 Car Window Stickers for Compliance and Brand Visibility

Window Stickers for FTC Compliance
Marking your auto inventory is essential. The FTC Used Car Rule states that auto dealers must display a Buyer's Guide on all used vehicles for sale on their lot. However, this presents a unique challenge: how do you go about marking your auto inventory?
It may seem simple enough to tape a piece of paper inside a car window, but this looks sloppy and frequently leaves a sticky residue when removed. Even worse, some tape may peel up or fall off. Thankfully, there is a more effective method for marking auto inventory: window stickers.
Window stickers are specialized labels, designed to stay affixed to car windows without curling up or falling off. What's more, they come off clean with no residue left behind. They are a hassle-free solution for any busy lot manager.
Window Stickers for Brand Visibility
In addition to federally-mandated window dressing, window stickers have many uses beyond just buyer's guides. What better way to increase your brand visibility on the lot than with custom window stickers featuring your dealership information? Window stickers can be used to ensure the information you want the customer to know is front and center.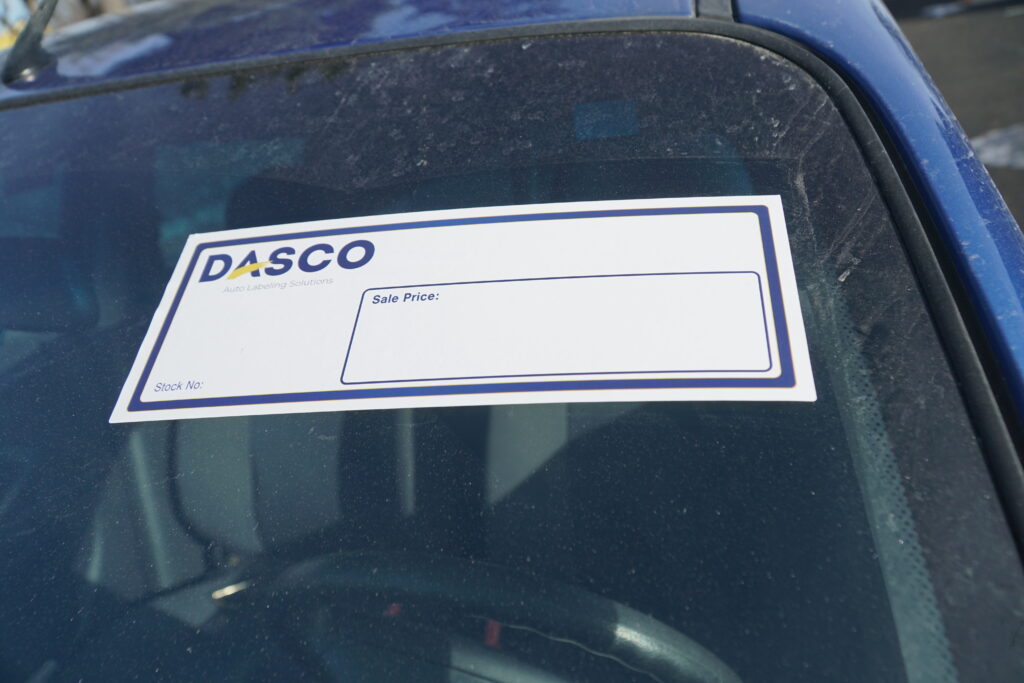 Price Tags
Window stickers are a simple solution for displaying price prominently and clearly. Exterior-mount window stickers are perfect for this application because of their clean look and ease-of-use: no keys required!
Monroney Labels
Monroney labels list information about the vehicle for sale and are commonly displayed alongside buyer's guides. For used car dealers, they are a fantastic way to increase brand visibility on the lot. These labels prominently display the dealership's logo and contact information, as well as information on exclusive warranties or advantages offered through the dealership.
Safety Inspection
Posting a safety inspection on a vehicle is a great way to gain trust through transparency. With a window sticker that tells the customer all they need to know, there's less risk of unpleasant surprises.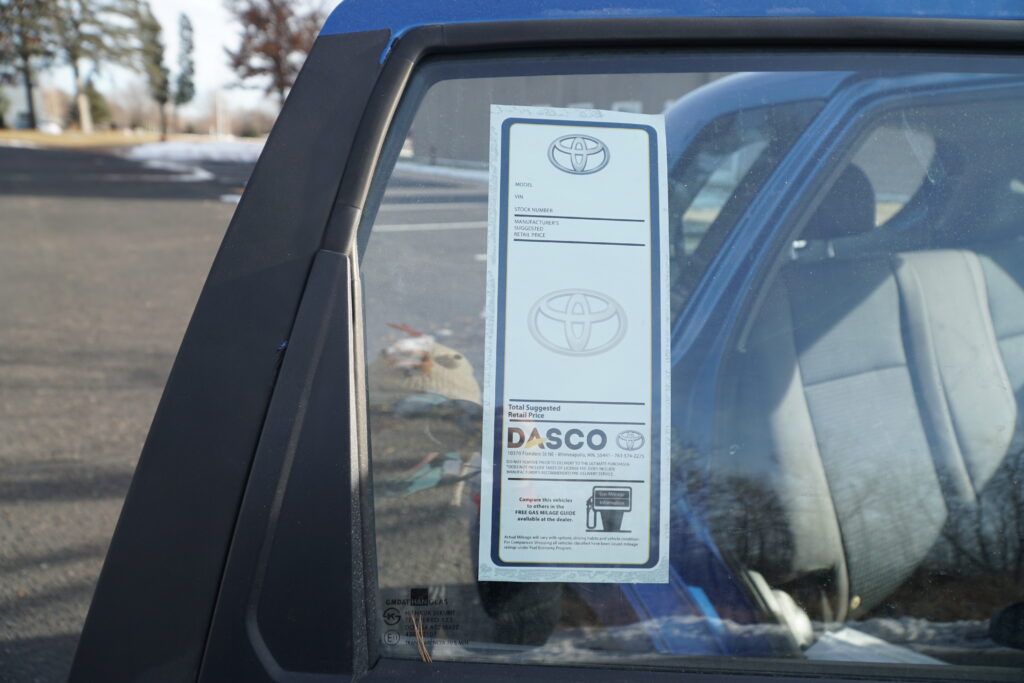 Options & Features Addendum
An options and features addendum is an excellent way to highlight options and warranties offered through your dealership. They are usually displayed side by side with Monroney labels.
Promotional Material
Do you have a special sale ongoing? Let customers know with a window sticker. Promotional window stickers are an easy way to keep your campaign top-of-mind with potential customers.
Window Stickers by Dasco
At Dasco, our window stickers are specialized for your business. Our window stickers work with most office laser printers, so you can easily print vehicle information from your inventory management software. When applied, our labels will not curl up or fall off, ensuring you stay compliant and on-brand.
Interior or Exterior Application
Window stickers come in two types depending on where they are applied: inside the car window or outside. Interior window stickers are made of paper and exterior window stickers are made of weatherproof vinyl.
Interior
Interior window stickers are made of paper and are a popular choice for inventory marking due to their affordability. These window stickers have a unique die-cut that allows them to be mounted on the inside of a car window while still displaying information outside. This way, labels are protected from the elements and won't fall off before their time.
Exterior
Exterior window stickers are durable and easy to use. Their die cut allows information to be displayed on the inside of car windows as well as outside. The labels are weatherproof and tear-resistant due to their vinyl construction. These labels are durable and quick to apply, making them a reliable solution for any dealership.
Print from your Software
Best of all, window stickers are easy to customize and print on the lot. Whether you use an inventory management software or not, printing on a window sticker is easy. Dasco offers window stickers in a standard 8.5" x 11" letter size for use in most standard laser printers. With several types of printable stock, your possibilities are endless.
Buyer's Guides
Our buyer's guides are available in both English and Spanish with the updated 2018 verbiage. The inward-facing side of the window sticker displays the buyer's guide information, and the outward-facing side is blank to allow for custom printing at the dealership.
Blank Stock
In addition to buyer's guides, we also offer a selection of blank window stickers so you can print your own custom information on the lot. All our window stickers are compatible with standard laser printers.
For printing 2-sided buyer's guides, we offer stock that is blank on both sides. Some dealers choose to print their own buyer's guides so they can include their contact information.
We offer stock that is blank on the outward-facing side with a cautionary disclaimer on the inward-facing side. The disclaimer warns the driver to remove the sticker before operating the vehicle. Use this stock to print Monroney labels and promotional material.
Addendum Stock
Our addendum labels are approximately 4.25" x 11." For ease of printing, they are 2-up on a letter-sized sheet. Use these labels to print addendums, price tags, or other notifications.
Custom Window Sticker Services
At Dasco, we specialize in auto window sticker solutions. Beyond being a supplier of window sticker stock, we provide services such as custom label printing and graphic design. Don't have a pre-made label design ready to print? With affordable graphic design services and a wide selection of templates, we can create a label that's right for you.
Our design service include:
Recreating a label from a photo or low-quality scan
Adding dealer information to buyer's guides
Designing a new label from scratch
Editing images or verbiage on a previously designed label
Window Sticker Solutions for Your Dealership
Window stickers are a perfect solution for displaying everything from FTC Buyer's Guides to promotional material. They are durable and highly visible, keeping you compliant and on-brand on the lot. At Dasco, offer both interior and exterior window stickers in a variety of styles. All our window stickers are printable in laser printers. We also provide graphic design services to help you create a label that matches your specifications.
Are you ready to get started? Take a look at our Window Sticker Solutions or Contact our Label Experts.