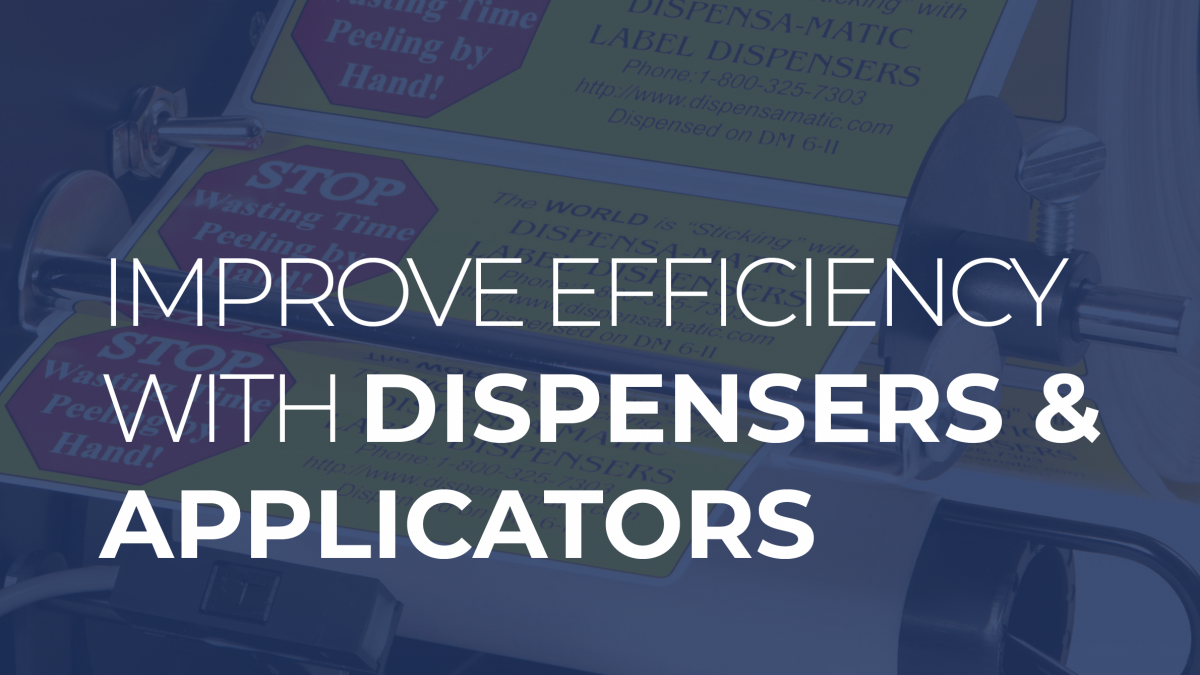 Improve Labeling Efficiency with Dispensers and Applicators
In fast-paced workplaces, efficiency is everything. Your labeling process should be no different. A fully automated labeling solution is often ideal, but the high initial investment is difficult to justify for many small-to-medium-sized businesses. Instead, it is best to invest in lower-cost solutions that work in tandem with human workers.
There are a host of solutions designed to speed along the labeling process. Label dispensers "present" a label to the operator after removing it from the backing. Label applicators take this process one step further by applying the separated label to a product or container. Some applicators also work as part of an automated in-line solution.
Dispensers
Because of their low cost and easy implementation, label dispensers are an excellent way to improve efficiency. They are especially well-suited for fast-paced environments like production lines.
The way dispensers work is simple. First, they separate the label from its liner by pulling the liner around a tight radius (usually a plate or a bar) to cause the label to lift away and separate. This method prevents the label form curling, which may occur if removed by hand. Once the label is separated, it is "presented" to the operator for application.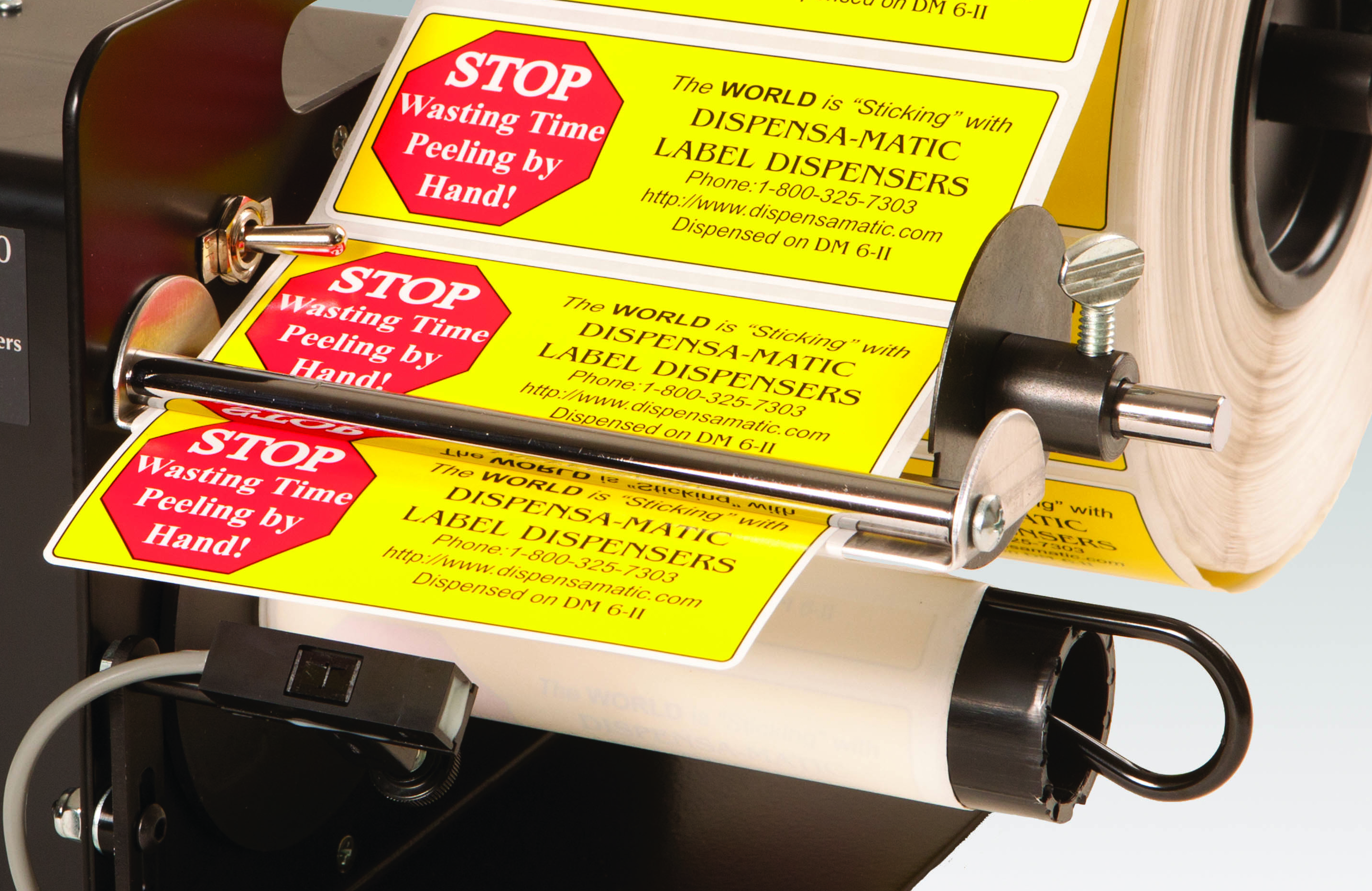 The U-60 dispenser presenting a peeled label for application.
Manual label dispensers require the operator to pull the liner through the machine by hand. Electric dispensers advance labels automatically. Many electric dispensers also rewind the scrap liner paper for easy disposal.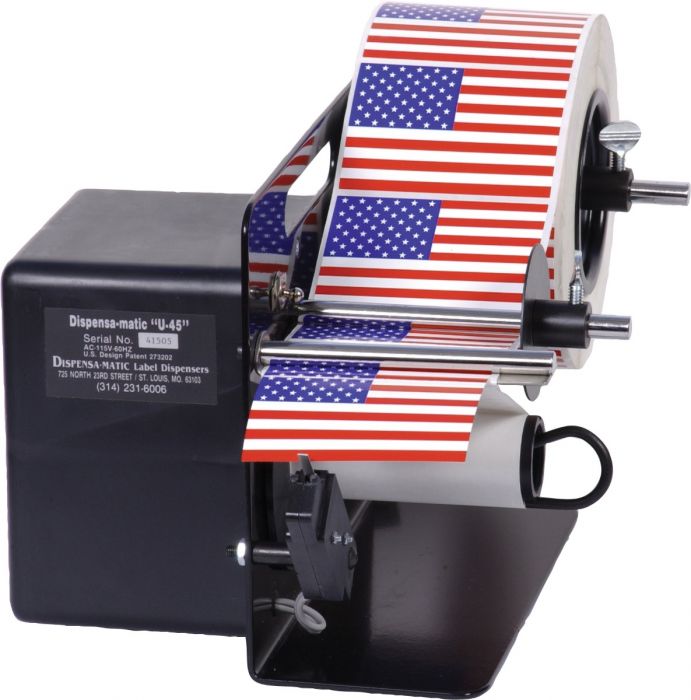 The U-45 dispenser rewinds waste onto a separate roller for disposal.
Some dispensers accept a range of label sizes and types. They are a flexible way to increase efficiency, especially on multi-product production lines.
Verification & Tracking
Some electronic dispensers can be used to help verify and track products on a production line. The dispenser must be programmed to work with a barcode scanner. With the scanner connected, the dispenser advances a label only when an identifying barcode has been scanned.
For verification systems, the barcode is checked against a database. The dispenser advances a label only if the barcode matches the information in the database, preventing mislabeling.
Using a label dispenser with a barcode scanner to track product data.
For tracking systems, scanning the product barcode enters information into a database, such as the product id, time, and date. The dispenser advances a label only after a barcode is scanned, ensuring tracking accuracy.
Handheld Dispensers

"Handheld dispenser" and "price gun" are different names for the same device.
Handheld dispensers advance a label when a trigger on the handle is pulled. The operator applies the label by swiping the dispenser across the surface to be labeled. Since they are handheld, these dispensers are particularly versatile and can be used to label anything, regardless of shape or size.
Handheld dispensers work best for retail labelin
g due to their versatility. They are known as "price guns" because they are most often used to apply price stickers.
Applicators
Label applicators typically work with a specific type of shape or container. They apply labels with speed and consistency and require minimal operator effort.
Print-and-apply systems are systems that print on blank labels immediately before application. These systems allow for a high degree of flexibility, especially for serialization and traceability.
Wire Applicators
Labeling wires by hand can be a labor-intensive process. However, an applicator can help make this an efficient, automated process.
In terms of wire label applicators, none compare to the pioneering Brady Wraptor. Inserting a wire into the Wraptor triggers the applicator. This module applies the label by spinning it around the wire securely. Significantly, the Wraptor eliminates the need for a separate label printer, as it is a fully integrated print-and-apply system.
The Brady Wraptor prints and applies wire labels in seconds.
Test Tube Applicators
Labeling test tubes is a problem all laboratories must tackle. Some labs still write and apply their labels by hand, though this is by far the most inefficient method that puts samples at risk of being thrown out or misidentified.
The Axon 2 is a test tube applicator mounted on the front of a Squix printer.
There's no doubt that it's vital to ensure legibility when it comes to test tube labels. In this case, an applicator that works in conjunction with a printer is the ideal solution. For example, the Axon 2 is an applicator that fits onto a Cab Squix printer to allow for seamless print-and-apply integration.
Bottle Applicators
Bottle and beverage labeling is an area with the most options in terms of label applicators. From stand-alone systems to in-line applicators, there are options to fit any business.
Wrap-around beverage labels are particularly difficult to apply by hand. Usually, they end up skewed or wrinkled. When labeling consumer products where branding is critical, a sloppy label application can jeopardize sales. Bottle applicators use a system of rollers to apply labels quickly and evenly.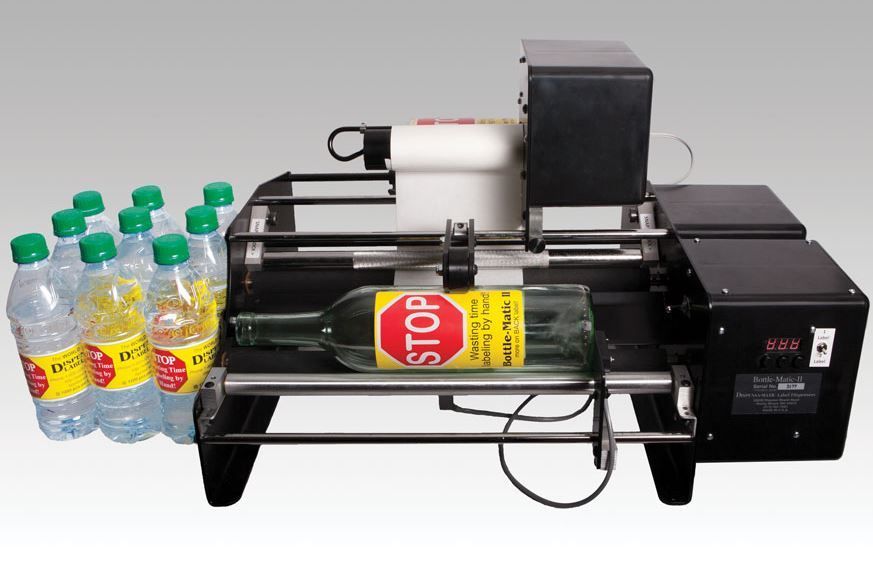 Desktop bottle applicators are perfect for small to medium production runs.
Bottle applicators vary significantly in size and scope. For large production runs, an applicator would be best as part of an in-line system. For small to medium sized production runs, a tabletop bottle applicator would be a perfect fit.
Bottom Line
Making your labeling process more efficient doesn't necessarily demand a considerable investment. Often, a simple label dispenser is all it takes to speed things along. Depending on your needs, a label applicator may be more appropriate, perhaps even a print-and-apply system.
No matter what you want to label, there is a semi-automated solution that will help improve efficiency and boost your bottom line.
Ready to learn more? Chat with our label experts.