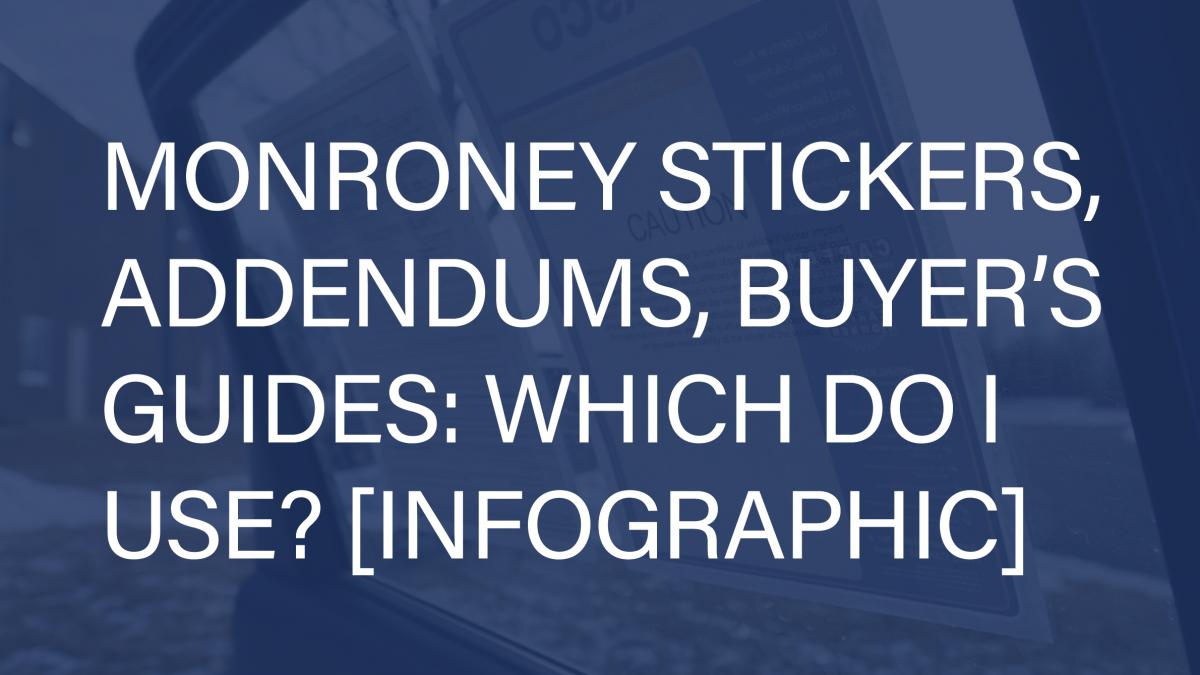 Monroney, Addendums, Buyer's Guides: What Window Sticker Should I Use? [Infographic]
Marking your auto inventory is important. The FTC Used Car Rule states that auto dealers must display a Buyer's Guide on used vehicles for sale on the lot. Many dealers also choose to post a monroney label with information about their dealer warranty or special features. With a wide variety of labels to help identify your automotive inventory, you'll find the ideal solution to fit your needs. We offer both stock and custom sticker solutions for interior and exterior application.
Our window stickers work with most laser printers, so you can easily print vehicle info from your inventory management software. When applied, our labels will not curl up or fall off, ensuring you stay compliant and on-brand. Removing a label is easy and convenient. With no tearing or residue left behind, our window labels are a hassle-free solution for any busy lot manager.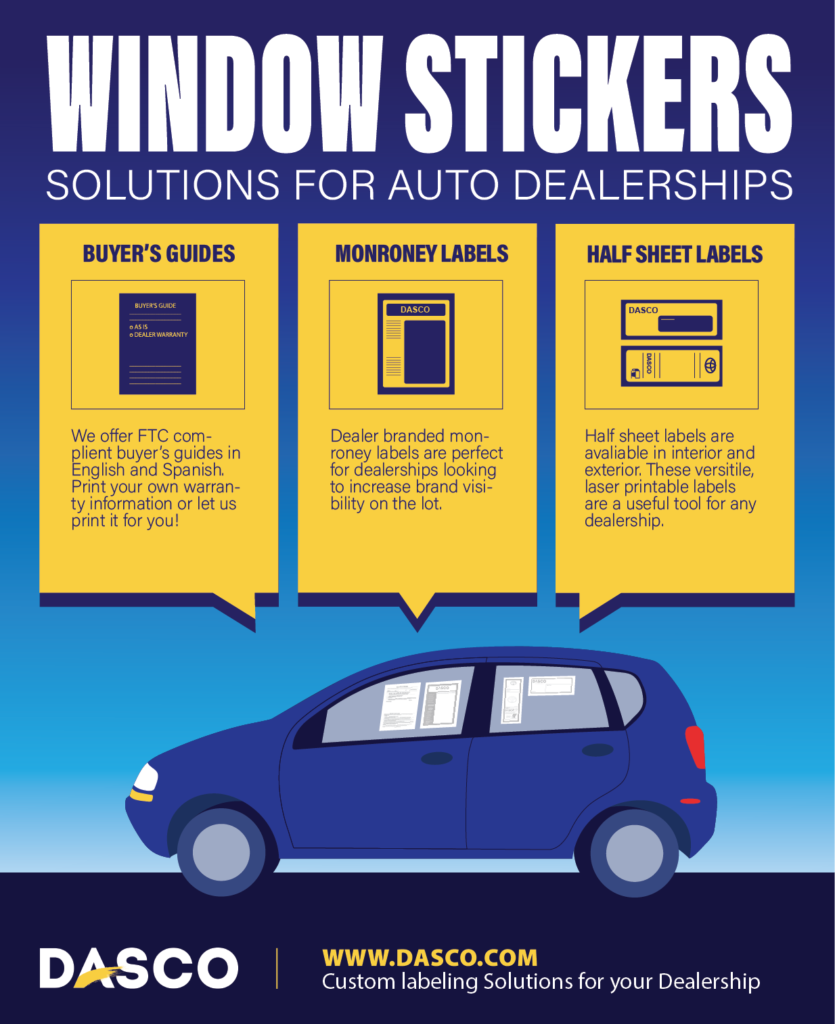 FTC Buyer's Guides
According to the FTC's Used Car Rule, dealerships must display a Buyer's Guide for all used vehicles for sale on their lot. The FTC buyer's guide has fillable areas where dealerships can disclose information about the vehicle for sale, warranty coverage, and contact information if the buyer has questions after a sale.
IMPORTANT NOTE: According to the Used Car Rule, "(Dealers) are not allowed to place any other wording or symbols (including logos) on the Buyers Guide." To do so would violate the Rule, and may result in fines.
Monroney Window Stickers
Monroney labels list information about the vehicle for sale and are commonly displayed alongside buyer's guides. Monroney labels typically list desirable features about the vehicle for sale, and may include pricing or warranty information. For used car dealers, they are a fantastic way to increase brand visibility on the lot. These labels prominently display the dealership's logo and contact information, as well as information on exclusive warranties or advantages offered through the dealership.
Dealership Addendums
An options and features addendum is an excellent way to highlight additional features, financing or warranties offered through your dealership. They are usually displayed side by side with Monroney labels.
Prominent Vehicle Price Tags
Window stickers are a simple solution for displaying price prominently and clearly, without extra clutter. Exterior window stickers are perfect for this application because of their clean look and easy application.
Print Your Own Window Stickers
Dasco has an extensive selection of window stickers, both interior and exterior. All of our window stickers can be printed on using any office laser printer. Take control of your inventory marking today with our high-performance window stickers, buyer's guides, addendums and price tags.